Koosa hanging out in the back yard of his first house at 746 Mississippi in Lawrence, Kansas.
An early photo of Koosa and Cheryl in the kitchen at 746 Miss.
Koosa playing in a park, probably late 1980s.
Koosa visiting Kim in California, cerca 1995.
Koosa on a walk with his pals Frank and Domino at Thousand Hills State Park in Kirksville, December 1999.
Koosa working in the Kirksville garden, July 2000.
Koosa on the farm where Poochy used to roam, April 2000.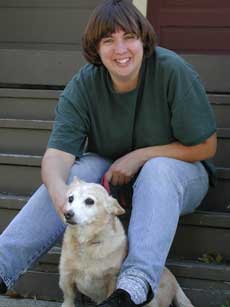 Koosa in front of the Madison house, September 2001.
Koosa's jack'o'lantern, October 2001
Koosa joins Kyle for thanksgiving, November 2001.
Koosa wishes Kyle a happy birthday, April 2002.
Koosa chillin' with Kyle at grandma's, June 2002.
Snow Koosa, April 2003.